Interactive Display Creator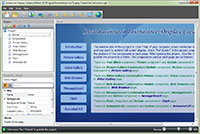 Interactive Display Creator is an interactive multimedia display software suitable for schools, exhibition halls, banks, hospitals and other public areas. This software can be used to create rich multimedia interactive display system without professional computer knowledge. With Interactive DIsplay Creator, it is easy to create a multimedia display system for use on a touch screen computer.
---
Features:
The Player program comes with a royalty-free distribution license (Editor license is required).
Add pictures and videos to the display page.
Add animated gifs to the display page.
Add PDF documents to the display page.
Add rich text format (.rtf) documents to the display page.
Add web browser to the display page.
Support to browse picture gallery.
Support to browse video gallery.
Support to handwrite messages, message pictures can be sent to preset E-mail addresses or uploaded to FTP server.
Customize the position and size of the display window.
Open screen keyboard.
Support automatic shutdown.
Support idle page.
Support to display the published project on other computers.

Download Trial
There is a watermark in published project.
Download Trial
User Guide (PDF)
User Guide (online)
System Requirements:
Windows 7/8.1/10/11.
4G RAM or above.
800M disk space or above.
User Guide:

Purchase
Per computer license, lifetime free upgrade.
Online activation is available, activation code will be sent to you automatically by email after payment is completed.

Buy Now